Welcome to ELM CONTRACTS (Contracting) Ltd.
ELM Contracts (Contracting) Ltd based in Great Yarmouth provides building services specialising in fast-track projects for the Leisure, Retail, Health, Industrial, Energy and Education sectors. Our services include design, new builds, refurbishments, refits, decorating and extensions works.
Our extensive knowledge with over 20 years' experience is built upon the firm foundation of long standing working relationships with architects and suppliers to ensure top quality, competitiveness and reliability to our Clients.
Our construction services are offered both locally and nationally utilising a multi-skilled workforce to ensure a high standard and quality finish is given to each project. From our construction yard and joinery shop fully equipped with the latest technology and equipment we are able to offer bespoke products/joinery with a quick turnaround to meet your individual needs.
We are recognized by our profound ability for delivering projects to a high standard and for our bespoke approach, therefore Clients return with business year on year.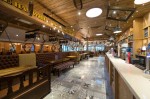 You can view all our projects across the range of sectors we cover on our Projects page. Alternatively call us on +44 (0)1493 441880 to arrange a meeting to discuss your requirements.
Credited Contractors for: